Sram ruft seine Force Vorderrad Bremsen wegen fehlerhaften Befestigungsschrauben zurück: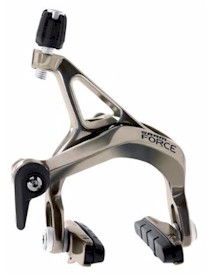 SRAM has learned that some SRAM Force front road brakes may have faulty titanium mounting bolts. This issue has since been corrected, and does not affect ALL Force front brake pivot bolts. SRAM will replace any Force front brake assemblies produced within the specified time frame noted below.
Do not use bicycle until front Force brake caliper has been replaced.

PRODUCT AFFECTED
SRAM Force Road Brake Caliper – Front only
SRAM Force Rear, Rival Front & Rear – Not Affected

FAILURE
Fracture of mounting bolt when installed onto fork.
Mounting bolt can fail causing front caliper to detach from fork.
If this occurs while riding, rider may lose control of bicycle.

CAUSE
• Incorrect grain structure of titanium raw material.

DATE CODES/RANGE AFFECTED
(date code on back of brake caliper will be one of the following)
• No Date Code (early production may not include a date code)
• Original date code formula: ≤ 15SEP06 (up to, and including, 15SEP06)
• Current date code formula: 35T6XXXXXXX – 39T6XXXXXXX (first two digits indicate week of production, 2006)

CORRECTIVE ACTION
Replace complete front Force brake caliper assembly (the mounting bolt is not replaceable).

Dealers – SRAM, or a SRAM Distributor, will contact you with a corrective action plan. Please create a list of known consumers who have purchased either an aftermarket kit containing Force brakes or a bike originally equipped with Force brakes.
All front Force brake assemblies that are replaced should be contained and returned to a SRAM Distributor or regional SRAM Sales office.

REPLACEMENT PRODUCT
Please contact your SRAM customer service representative to place your replacement brake caliper order immediately. If additional Front brake assemblies are needed at a later date, please contact your SRAM customer service representative.
00.5112.318.050 07 BR, Force, Front, 30mm Nut Length

If you have further questions or concerns please contact your SRAM customer service or sales representative. Thank you for your understanding and assistance.
UPDATE – Hinterradbremse auch betroffen!
Do not use bicycle until both Front and Rear Force brake calipers have been replaced.

PRODUCT AFFECTED
SRAM Force Road Brake Caliper – Front and Rear
SRAM Rival Front & Rear – Not Affected

FAILURE
Fracture of mounting bolt when installed onto fork and/or frame.
Mounting bolt can fail causing brake caliper to detach from fork and/or frame.
If this occurs while riding, rider may lose control of bicycle.

CAUSE
• Incorrect grain structure of titanium raw material
(Quelle: Sram)