Jason Woznick von FairWheelBikes aus Tucson, Arizona hat seinen ausführlichen Kurbel-Test aus dem vergangenen Jahr einer Überarbeitung unterzogen und sieben neue Kurbelmodelle ebenfalls einem Testverfahren unterzogen. Neu dabei sind die Modelle von Easton (EC90), EE Cycle Works, FSA (K-Force Light), Lightning (SL und HD), Storck/THM (Powerams SL) und Stronglights X-Wing Kurbelgarnitur.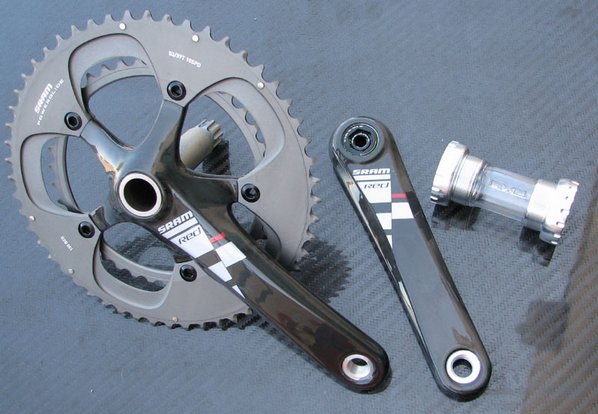 Im Einzelnen lauten die Kandidaten:
1. Campagnolo Record UT
2. Easton EC90
3. EE Cycle Works Prototyp
4. Extralite QRC
5. FSA K-Force Light
6. FSA SLK-Light
7. Kcnc Ktype
8. Lightning SL und Lightning HD
9. PMP MicroII
10. Shimano Dura Ace
11. Sram Red
12. Storck Powerarm SL
13. Stronglight Fission
14. Stronglight X-wing
15. Thm Clavicula
16. Tune Fast Foot 6pack
17. Vista Integral
18. Zipp Vuma quad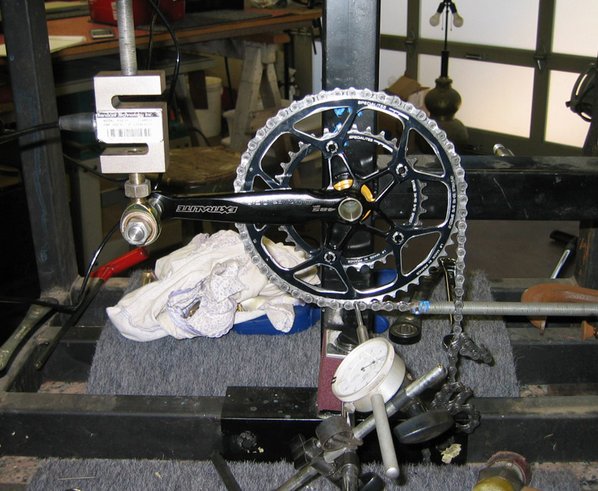 Die durchschnittliche Durchbiegung der Kurbeleinheiten in "Inch":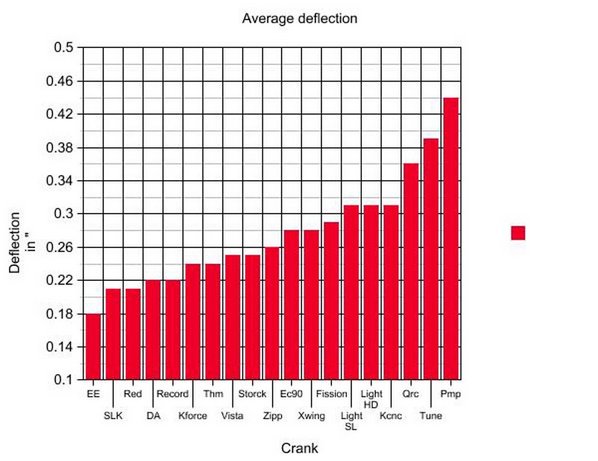 Jason zu seinem Testaufbau:
A couple of notes on how the deflection testing was done. Each arm was preloaded with 50lbs. From there another 200 lbs was added and the difference was measured in inches. Each arm was tested twice and an average of those two measurements is what I will post. A lower number represents a stiffer crank. These will be labeled as Deflection-D (Drive side deflection) and Deflection-ND (non-drive side deflection)
Diagramm zwei zeigt einen sogenannten SxW (Steifigkeits-Gewichtsindex):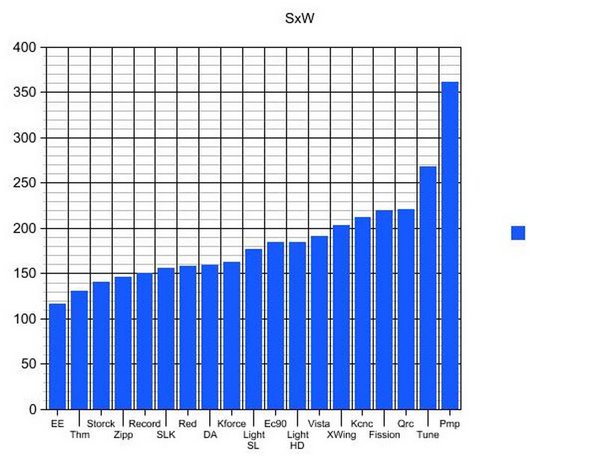 Das komplette Testergebnis kann man unter diesem Link abrufen.