Ganze 18 Jahre sind seit der ersten Shimano XTR-Gruppe M900 vergangen und lange wurde auf die neue Auflage der XTR gewartet. Nach etlichen Spekulationen im Vorfeld und der Präsentation der XT und SLX Gruppen im Frühjahr ist es nun soweit: Shimano präsentiert sein neues Flagschiff der Öffentlichkeit – und wie erwartet mit einem zehnten Ritzel am Heck. Fokus Leichtbau: In Sachen Gewicht hat sich einiges getan. Weit über 200 Gramm wurde die M980er Gruppe in der leichtesten Konfiguration gegenüber dem Vorgänger M970 abgespeckt und vielen Ecken optisch aufgehübscht. Neu im Programm ist nun auch eine eigenständige 2fach Kurbelgarnitur – Shimanos erwartete Reaktion auf SRAMs 2×10 Politik.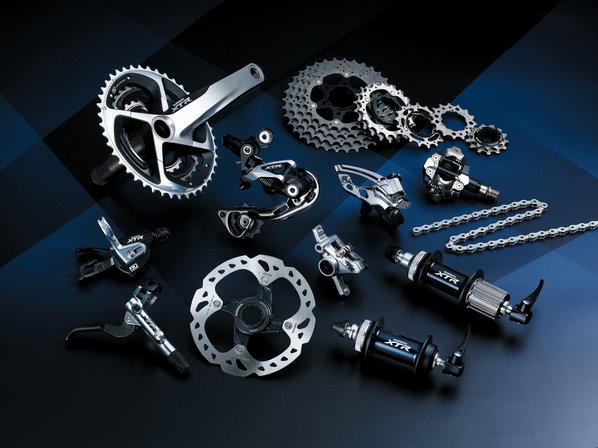 Nicht nur an die XC-Racer unter den Mountainbike-Freaks wurde gedacht. Shimano möchte künftig mit der XTR ebenso verstärkt auf das All-Mountain Pferd setzen und bietet deshalb eine Modellerweiterung um Steckachssysteme, AM-Laufräder, angepasste Scheibenbremshebel BL-M988 und Plattformpedalen an.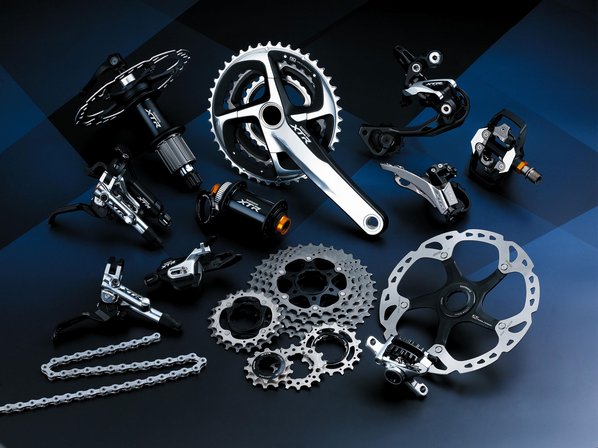 Wie auch schon zur Veröffentlichung der aktuellen Dura Ace gibt es für die neue XTR eine eigene Webseite: ride XTR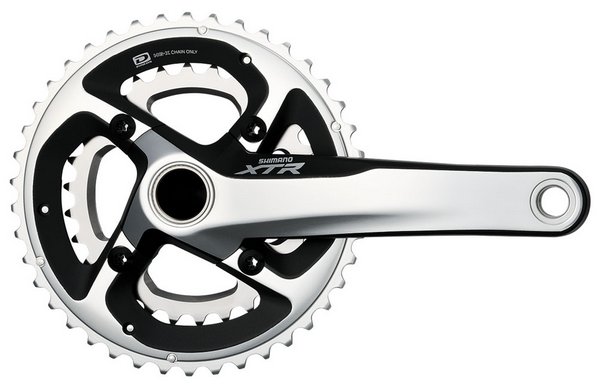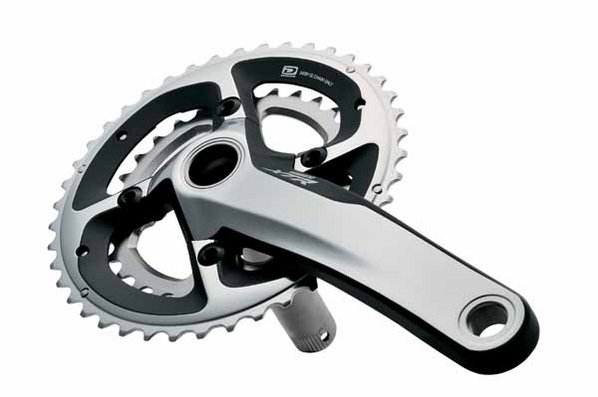 FC-M985 Kurbeleinheit
* Zweifach in 40T-28T, 42T-30T oder 44T-30T Abstufung
* Dyna-Sys Technologie, HG-X
* Hollowtech II – maximale Steifigkeit bei geringem Gewicht
* um 3mm reduzierter Q-Faktor gegenüber der Dreifach-Kurbel
* Gewicht: 715 Gramm inkl. Innenlager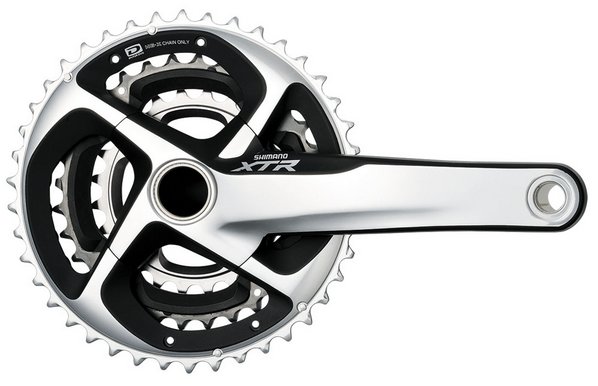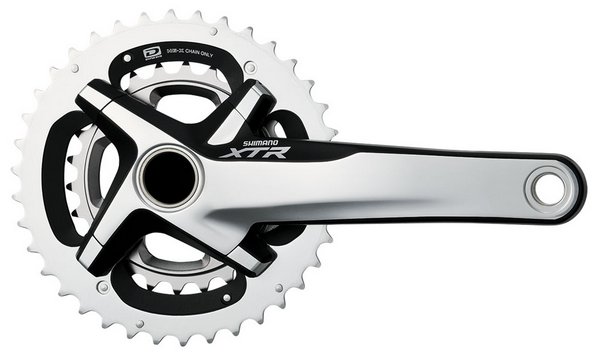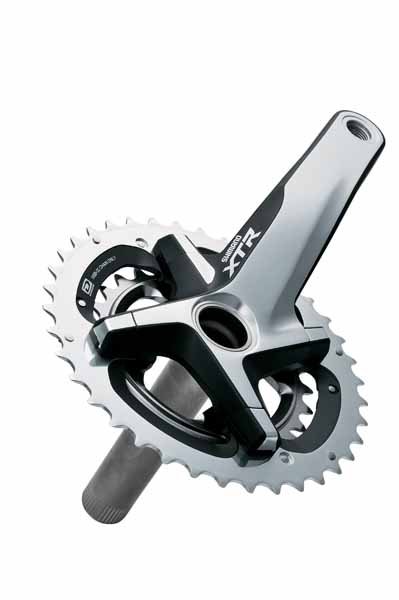 FC-M980 Kurbeleinheit
* Dreifach oder zweifach in 42T-32T-24T oder 38T-24T Abstufung
* Dyna-Sys Technologie, HG-X
* Hollowtech II – maximale Steifigkeit bei geringem Gewicht
* Mittleres Kettenblatt aus Kohlefaser/Titan Composite
* Gewicht: 770 Gramm inkl. Innenlager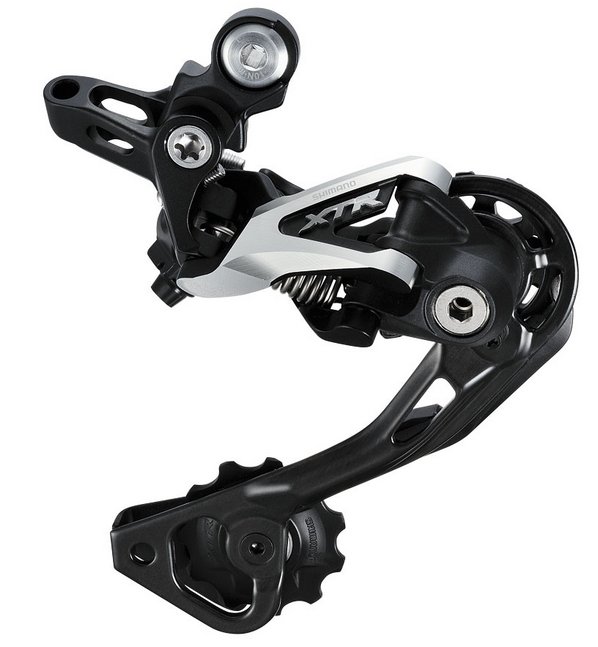 RD-M980 – Shadow Schaltwerk
* Neues low-profile Shadow design
* Kohlefaser (aussen) und Aluminium (innen) -Käfig
* Abgedichtete Schalträdchen
* Erhältlich medium oder long cage (GS and SGS)
* Kapazität: 41T (SGS), 35T (GS)
* Gewicht: 175g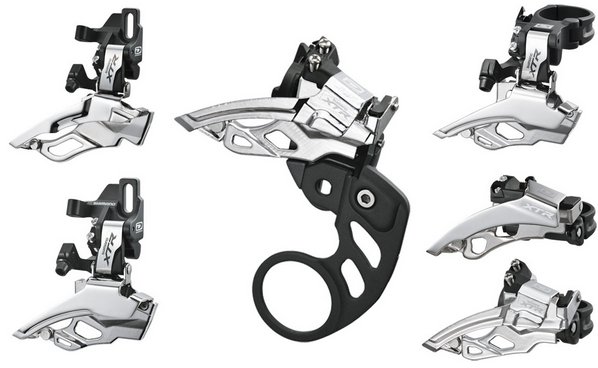 FD-M980/81/85/86 Umwerfer
* 10-fach angepasstes Design
* Acht verschiedene Versionen möglich, (Top Swing, "Normal" , E-type oder Direct Mount)
* Adapter passend für 28.6-34.9mm Sitzrohre
* Multi-pull design erlaubt top or bottom Kabelansteuerung
* Gewicht 122 – 148 Gramm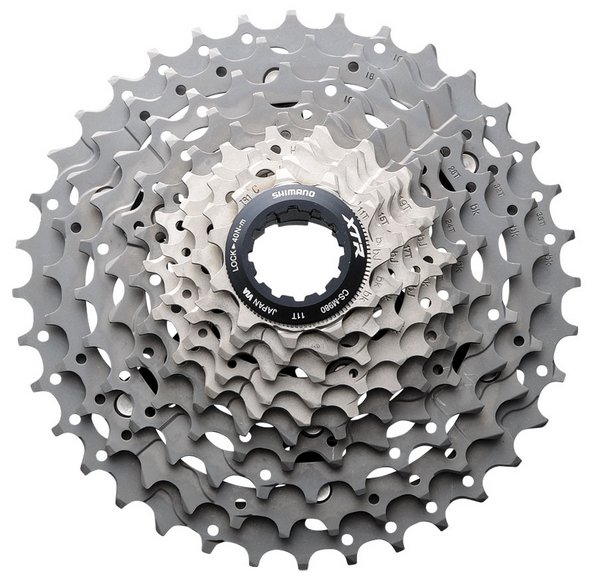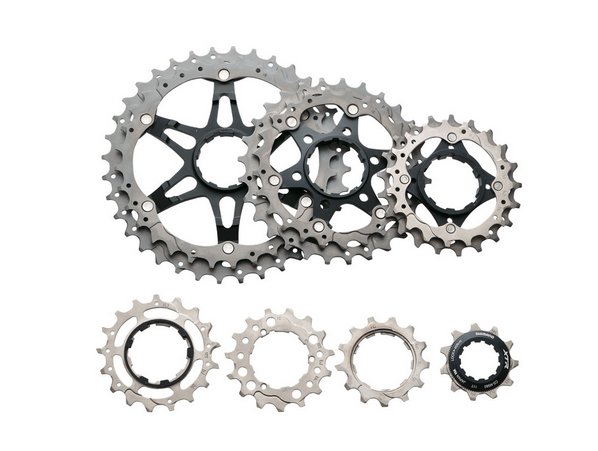 CS-M980 – Kassette
* Erhältlich in 11-36T and 11-34T, eine 11-32T Version wird nächstes Jahr kommen
* Die fünf größten Ritzel aus Titan are titanium for reduced weight and improved durability
* Dreiteilige Spider Arm Konstruktion
* Neues 10fach kompatibles Zähne-Design
* Aluminium Abschlussring
* Gewicht: 255 Gramm (11-34T)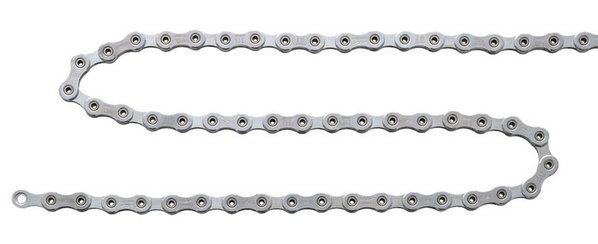 CN-M980 – Kette
* Neues HG-X direktionale (asymmetrisch) Kette. Rechte Seite (Logo) ist für die vorderen Blätter optimiert, die linke Seite für die Ritzel am Heck.
* Hohle Kettennieten
* "Verzinkt" für erhöhte Haltbarkeit
* Gewicht: 259 Gramm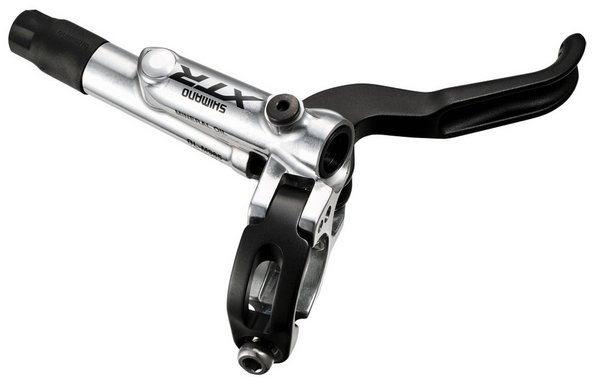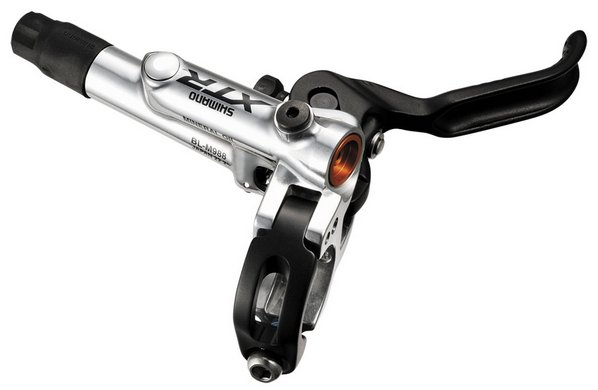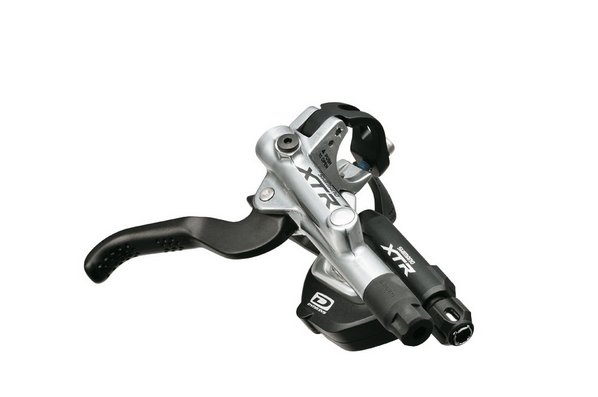 BR-M985/BL-M985 – Scheibenbremse
* Bremsgriff: integrierter Ausgleichsbehälter mit offener Klemmschelle
* Bremshebel: 13mm breiter, kurzer Bremshebel mit ergonomischer Drehachse; Anti-Rutsch-Beschichtung
* Bremssattel: einteiliger Bremssattel mit Universalbefestigung aus Leichtmetall
* Bremsleitung: Hochleistungsbremsleitung (SM-BH90-SB, Vorderrad 1000mm / Hinterrad 1700mm)
* Bremskolben: Keramik, oversized
* Bremsbelag: Aluminium-Trägerplatte mit neuer Belagsmischung oder Metallbelag mit Titan-Trägerplatte
* Gewichte: 220 Gramm Vorne / 229 Gramm Hinten
SM-RT98 – Bremsscheiben
* Dreiteilige Konstruktion
* Aluminum Spider
* Bremsleistung soll gegenüber dem Vorgänger um 25% (AM) bzw. 10% (XC) erhöht worden sein
* Ice-Tec Technologie – eine Stahl-Alu-Stahl-Sandwich-Konstruktion soll die entwickelte Hitze schneller abführen
* 4 Größen erhältlich: 203mm, 180mm, 160mm und 140mm
* Gewichte: 183, 130, 126 und 101 Gramm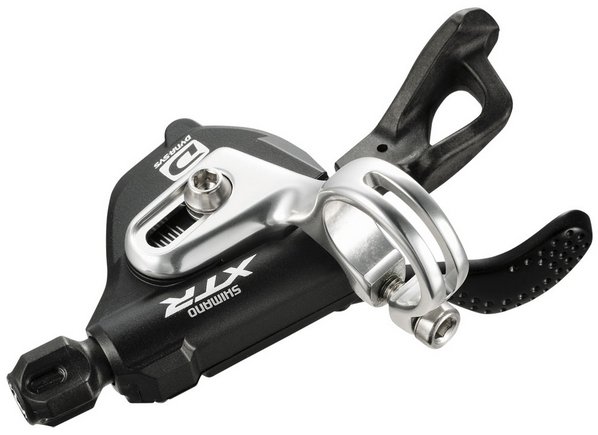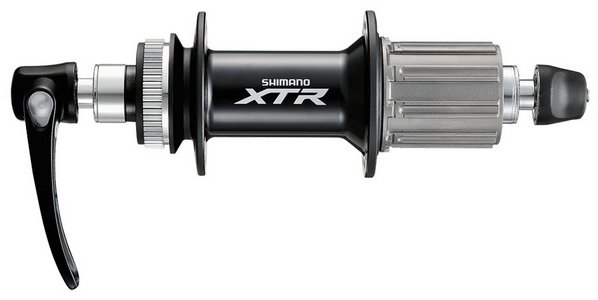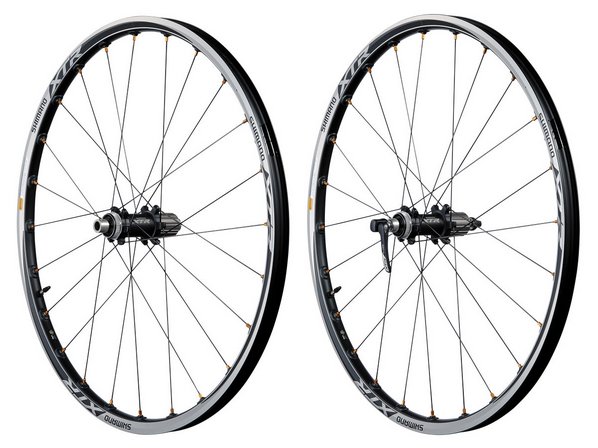 Photos: Shimano
Alle Daten und Gewichte kompakt in der Zusammenfassung: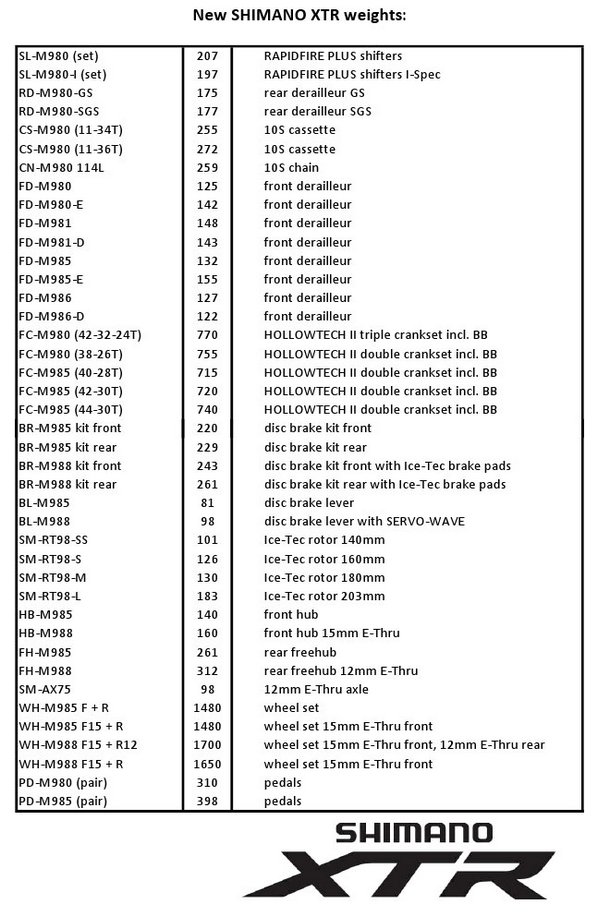 New SHIMANO XTR developed for XC and AM category
Rider Tuned concept widens XTR user profile
NUNSPEET (The Netherlands) June 28, 2010 – In the development phase of the new XTR group, Shimano engineers and designers focused on a rider-tuned concept which means that the components have been engineered to perfectly match the needs and riding styles of individual mountain bikers. This broadens the scope of XTR and makes it the benchmark not only for Cross Country (XC) racers but for All Mountain (AM) riders too.
The new SHIMANO XTR offers a wide range of products in an attractive design that will raise the bar in mountain bike components and appeal to a wide variety of riders.
The XTR components for XC will set a new benchmark in terms of a super lightweight design while offering a further improved smooth and effortless handling. The dedicated All Mountain components have been developed with a hard core usage in mind, focusing on rigidity and extra brake power for example.
Highlight of the new group is the 10-speed Dyna-Sys drivetrain system with triple and double crankset options. Finally an efficient and functional 3 X 10 drivetrain will be available that will for sure be popular amongst a wide range of mountain bikers. Dyna-Sys, introduced earlier this year at DEORE XT and SLX level, creates real added benefits to the rider:

Dyna-Sys
Ø It's not only an extra gear…
Ø It's about closer gear ratios for a smoother shifting performance and improved power transfer
Ø It's about riding optimized gear combinations that improve efficiency and durability
Ø It's all about performance: Dyna-Sys offers a more stable drivetrain for any type of rider!
Ice-Tec
Shimano is introducing a completely new cooling technology for disc brakes named "Ice-Tec". Ice-Tec brake pads and rotors significantly reduce heat build-up in the disc brake system. This in turn reduces fading, which assures consistently high braking performance even on long downhill stretches. It also results in longer pad life and substantially quieter braking.
Ice-Tec brake pads have been provided with an aluminum radiator fin with a stainless steel two layer back plate structure. Ice-Tec rotors have an aluminum core sandwiched in stainless steel for improved heat dissipation.
I-Spec
The new XTR offers an integrated mount system for the brake lever and shift lever, named "I-Spec". With I-Spec, only one clamp band is needed which looks good and saves space on the handlebar besides saving around 10g. Horizontal micro-adjustment is possible for a customized set-up.
Pedals and wheels
Following the "Rider Tuned" concept, XTR will include two types of SPD pedals. One model has been developed for Cross Country usage focusing on a super lightweight design. The other model is targeted to All Mountain riders, with a wider platform for an improved grip. Also many wheel choices will be available for any kind of riding style from XC Racing to All Mountain.
Overview of the new SHIMANO XTR components:
SL-M980 RAPIDFIRE PLUS Shift Levers
· Precise, vivid index shifting in all gear positions
· Instant Release, Multi Release, Two Way Release for quick and versatile operation
· Improved ergonomics, anti-slip dimples for a better control
· 4-bearing construction for ultra-smooth, effortless shifting
· Compatible with double and triple front derailleurs by a mode converter

SL-M980-I RAPIDFIRE PLUS Shift Levers I-Spec
· Same features and benefits as SL-M980
· Integration mount system for brake lever and shift lever
· Unified clamp band for clean appearance and light weight design
· Horizontal micro-adjustment for perfect set-up on the handlebar

FC-M980 Triple Crankset 42-32-24T
· Dyna-Sys 3 X 10 for all riding conditions
· HOLLOWTECH II technology
· Close ratio gear combination
· Durable titanium/carbon composite middle chainring

FC-M980 Double Crankset 38-26T
· Dyna-Sys 2 X 10 All Mountain usage
· HOLLOWTECH II technology
FC-M985 Double Crankset 42-30T, 40-28T, 44-30T
· Dyna-Sys 2 X 10 race inspired
· HOLLOWTECH II technology
· Close ratio gear combination
· Narrower Q-factor
· DUAL SPIKE technology for faster, smoother gear shifts
SM-BB90-A Bottom Bracket Cups
· Wider bearing spacing for greater stability
· Consistently smooth rotation
SM-BB91 Press Fit Bottom Bracket Cups
· Special fitted cups, by pressing them inside the frame
· Great looks and protection against weather influences
· Best balance of power transfer and lightweight design

CN-M980 Chain
· 10-speed chain developed specially for MTB use
· Excellent mud shedding design
· Directional chain for optimized shifting performance at front and rear
· Hollow connecting pins to save weight
· Not compatible with 10-speed for road
FD-M980 Triple Top Swing Front Derailleur
FD-M980-E Triple Top Swing Front Derailleur, BB mount
FD-M981 Triple Down Swing Front Derailleur
FD-M981-D Triple Down Swing Front Derailleur, direct mount
FD-M985 Double Top Swing Front Derailleur
FD-M985-E Double Top Swing Front Derailleur, BB mount
FD-M986 Double Down Swing Front Derailleur
FD-M986-D Double Down Swing Front Derailleur, direct mount
· Reliable, light action performance
· Adapted for full-suspension bikes
· Hollow link pin structure
· Easy access fixing and adjustment screws
RD-M980-GS/SGS SHADOW Rear Derailleur
· Low profile design to reduce the risk of damage
· Accurate and effortless 10-speed shifting for MTB
· Shorter cage reduces chain bounce and improves ground clearance
· Sealed bearing pulleys reduce friction

CS-M980 HYPERGLIDE 10-speed Cassette Sprockets
· Special tooth profile for HG-X chains and SHADOW rear derailleur
· Quick, smooth and consistent shifting
· 3-piece spider arm structure for ultimate rigidity
· 5 titanium sprockets to save weight
· Gear combinations: 11-34T, 11-36T
BL-M985 (XC) Disc Brake Levers
BR-M985 Disc Brake Calipers
SM-BH90-SB Disc Brake Hose
· Integrated barrel reservoir design: Compact, lightweight and easy to maintain
· 13mm wide brake lever with ergonomic pivot and anti-slip dimples on the surface
· Oversized full ceramic pistons for optimized weight, durability and insulation
· One-Way bleed system and improved oil routing
· One piece brake caliper
· High power brake hose
· XC: Resin pads with aluminum back plate and metal pads with stainless steel back plate
· AM: Ice-Tec resin and metal brake pads for consistent brake power at long and technical descents
· Split clamp
· I-Spec compatible

BL-M988 (AM) Disc Brake Levers
· New Servo Wave mechanism with shorter stroke for 25% higher lever input
· Less free stroke for more aggressive riding
· Reach adjust and free stroke adjust
· 14mm wide brake lever with ergonomic pivot and anti-slip dimples on the surface
· I-Spec compatible
SM-RT98SS Ice-Tec Center Lock rotor 140mm (rear only)
SM-RT98S Ice-Tec Center Lock rotor 160mm
SM-RT98M Ice-Tec Center Lock rotor 180mm
SM-RT98L Ice-Tec Center Lock rotor 203mm
· Ice-Tec for consistent braking performance
· 3 layer sandwich structure: aluminum core sandwiched in stainless steel
· Aluminum core dissipates heat faster
· Excellent mud shedding design for longer rotor and pad life
F01C Ice-Tec Resin Brake Pads
F03C Ice-Tec Metal Brake Pads
· Ice-Tec brake pads for consistent braking performance
· Aluminum radiator fin with stainless steel 2 layer back plate structure

PD-M980 XC Pedals
· Efficient power transfer due to increased pedal-shoe interface (270% more shoe/pedal contact compared to PD-M970)
· Lighter, low profile design
· Robust, dependable SPD functions
· Improved mud shedding design with oval-shaped axle body housing

PD-M985 AM Pedals
· Increased pedal-shoe interface (170% more shoe/pedal contact compared to PD-M980) for safer, comfortable trail surfing
· Wider platform for a better grip
· Wider bearing spacing for enhanced durability
· Integrated pedal cage protects bindings and ensures stability even when shoe cleats are not engaged
· Excellent mud shedding design with oval-shaped axle body housing

HB-M985 Front Hub
FH-M985 Rear Freehub
· Cup and cone bearings with double contact sealing
· High rigidity and lightweight 14mm aluminum axle with QR lever
· Freehub body design for quick engagement
· Center Lock rotor mount system
HB-M988 Front Hub with 15mm E-Thru system
FH-M988 Rear Freehub with 12mm E-Thru system
SM-AX75 12mm E-Thru Axle
· High rigidity with E-Thru axle system
· New titanium freehub body for quick engagement and perfect traction
· Cup and cone bearings with double contact sealing
· Freehub body design for quick engagement
· Center Lock rotor mount system
WH-M985-F (XC) Front Wheel
WH-M985-F15 (XC) Front Wheel with 15mm E-Thru system
WH-M985-R (XC) Rear Wheel
· Super lightweight scandium 19C tubeless rims
· 14mm aluminum axle with QR lever (M985-F/M985-R)
· 15mm E-Thru system with high rigidity axle (M985-F15)
· Center Lock rotor mount system
WH-M988-F15 (AM) Front Wheel with 15mm E-Thru system
WH-M988-R12 (AM) Rear Wheel with 12mm E-Thru system
WH-M988-R (AM) Rear Wheel
· Super lightweight scandium 21C tubeless rims
· New titanium freehub body for quick engagement and perfect traction
· Center Lock rotor mount system
Quelle: PM Shimano