Sram übernimmt den auf Leistungsmesssyteme spezialisierten Hersteller Quarq. Der Vertrieb für Deutschland läuft weiterhin über Quarq Deutschland.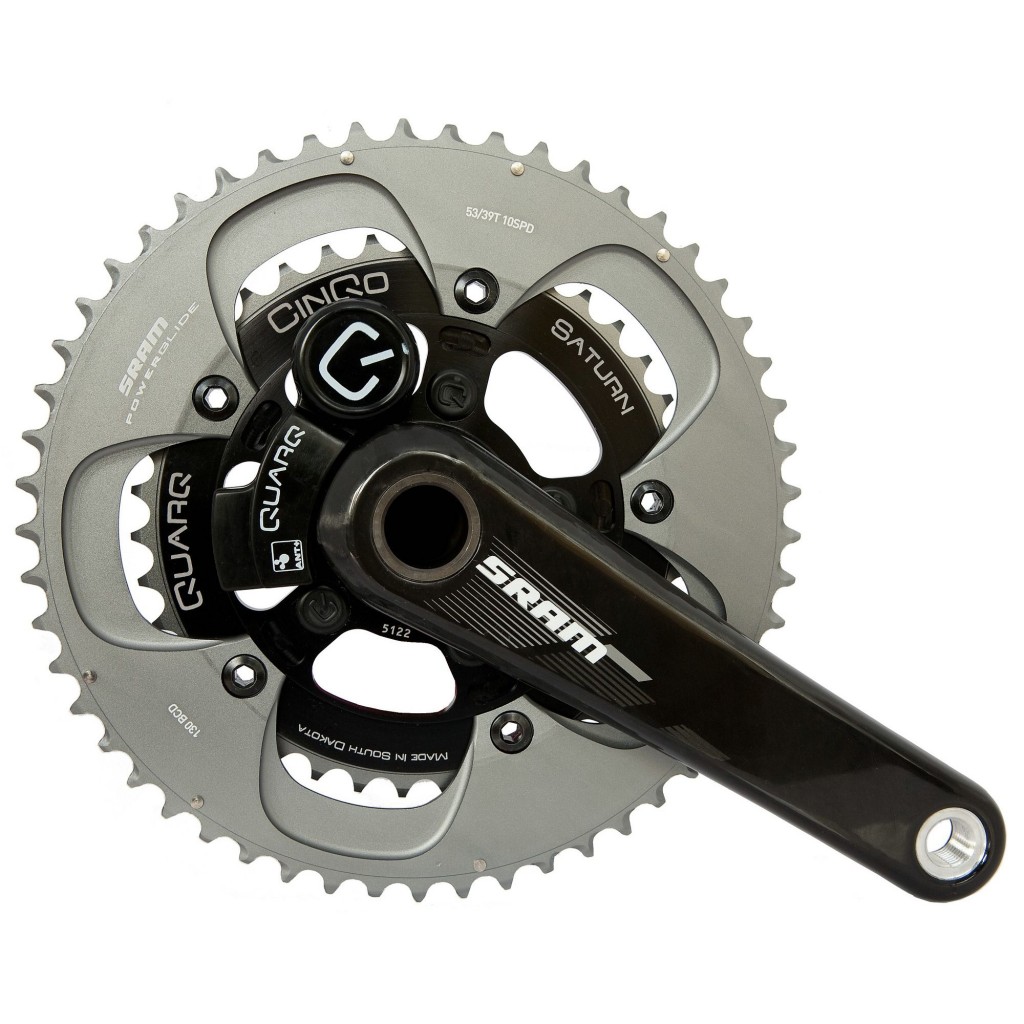 Die Quarq-Technologie (Quarq-Germany.de)
Der Quarq Cinqo-Saturn Powermeter
Das Quarq Leistungsmesssystem besteht aus dem Cinqo-Saturn Ring und einem wählbaren Kurbelsystem. Hierbei ersetzt der mit modernster Messtechnik ausgestattete Cinqo-Saturn den normalen 5-Arm Spider des Kurbelsystems. In den fünf (Cinqo) Armen des Cinqo-Saturn ist die patentierte Messtechnik integriert. Diese wird durch den "Ring of Saturn" verbunden um eine noch genauere Messung der Leistungsdaten zu ermöglichen. Die Messgenauigkeit des Systems beträgt +/- 2% Abweichung und ist damit vergleichbar mit anderen Spitzengeräten in der Leistungsmessung im Radsport.

Die Messtechnik
Der Quarq Powermeter misst deine Leistung durch die Kombination von Drehmoment (Pedalkraft)und Winkelgeschwindigkeit (Trittfrequenz) mittels der auch in anderen Leistungsmessern eingesetzten Dehnmessstreifen Technologie (z.B. PowerTap und SRM). Durch die vom Sportler aufgebrachte Pedalkraft wird die gesamte Kurbel kurzzeitig leicht verbogen (der sogenannte Flex, da die Verformung nur temporär ist). Diese leichte Verformung überträgt sich auf die im Kurbelstern (Spider) angebrachten Dehnmessstreifen, die so die Verformung messen und das Drehmoment bestimmen können. Diese Technologie ist zwar im Prinzip schon 50 Jahre alt, ist aber jetzt erst durch moderne Elektronik mit sehr hoher Messgenauigkeit und niedrigem Stromverbrauch in batteriebetriebenen Geräten mobil einsetzbar. Der Quarq Cinqo-Saturn verwendet 20 Dehnungsgitter auf 10 Dehnmessstreifen in einer durch Quarq patentierten Anordnung.
Datenübertragung – Wireless
Die Datenübertragung erfolgt mit Hilfe der ANT+ Sport Technologie. Diese kabellose Datenübertragungstechnik ist besonders stromsparend und somit perfekt für den Einsatz in mobilen Geräten geeignet. Damit ist der Quarq Powermeter mit vielen Empfangsgeräten (z.b. Garmin Edge 310XT, 500 und 705, Bontrager Node, iBike, O-Synce etc..) kompatibel.
Stromversorgung
Im Kontrast zu allen anderen Powermeter Systemen verwendet Quarq eine handelsübliche CR2450 Batterie, die durch den Nutzer ohne Werkzeug selbst gewechselt werden kann. Der Batteriedeckel ist ähnlich einer Kontaktlinsendose konstruiert und hält die Batterie sicher und trocken an ihrem Platz. Die Lebensdauer dieser Batterie beträgt etwa 400 Stunden reiner Nutzung.

Wartung/ Handhabung
Durch das außen liegende Batteriefach kann ein Batteriewechsel einfach durch den Sportler selber vorgenommen werden. Für die Kallibrierung (z.B. nach einem Kettenblattwechsel) wird ein iPhone App ab Frühjhar 2011 zur Verfügung stehen. Somit kann das System auch durch den Sportler selber kalibriert werden.
Pressemitteilung Quarq:
Quarq is pleased to announce that we have been acquired by SRAM. The acquisition by SRAM marks a milestone for both the SRAM and Quarq organizations. Read the official press release.
Frequently Asked Questions
Products on Order
Existing orders will be fulfilled as quickly as possible and in the order they were received – just like usual.
Product Wait Times
The Quarq Store shows products in stock and products with a lead time.
Products for Sale
In the near term, complete pre-assembled powermeter packages for SRAM, FSA, Rotor and Cannondale will continue to be available and Quarq will continue to sell powermeters for retro fitment on SRAM, FSA, Rotor, Cannondale, Specialized and Lightning cranks. Non-SRAM powermeters will be phased out over time.
Warranty and Repair
Quarq powermeters will continue to have a 2-year, transferable warranty and this will be honoured for all powermeters. Over time, non-SRAM powermeters will be replaced by the equivalent SRAM powermeter.
Units more than 2 years old can be repaired or replaced at a cost. Contact our customer service team for details.
Repairs will continue to be carried out in Spearfish, SD.
Upcoming Products
Qalvin will be released as planned. The timeline has not changed.
The MTB powermeter is in testing. A release date has not been confirmed.
The development and release schedule for any other powermeters is unknown.
Sales Outlets
Each sales channel will be evaluated and brought in line with SRAM's current business practices. In the near term, Quarq will continue to sell its products direct and through its coach and dealer networks. Margins and payment will remain the same. New applications to become an authorised coach or dealer are still welcome.
Customer Service
In the near term, Quarq's customer service team will remain in Spearfish, South Dakota, and you will continue to receive the stellar customer service you are used to.
Sponsorships
Quarq's team, athlete and event sponsorship and ambassadorship programs will be evaluated in the context of SRAM's overall sponsorship activity. No further sponsorships and ambassadorships will be awarded until this activity is complete.
Quelle: PM Sram | Quarq