6.38 kg Рdas leichteste high-end Bambus-Karbon Rennrad der Welt. Boo Bicycles zeigt seine aussergew̦hnlichen Rahmen auf der Eurobike.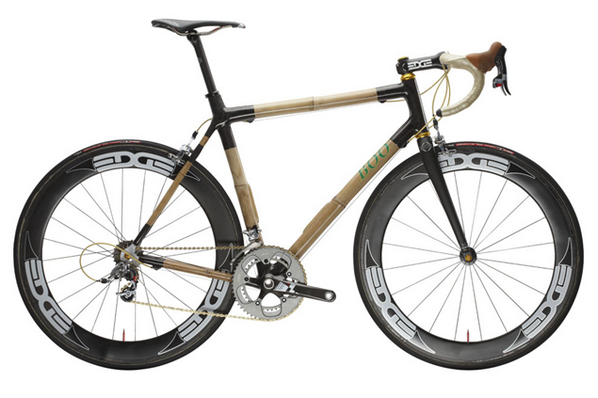 Trotz eines Rahmengewichtes von ca. 1.700 g wird das UCI-Limit problemlos unterschritten. Die Stabilität, Dauerhaftigkeit und der Fahrkomfort der handgefertigten Rahmens sollen weit über dem Durchschnitt liegen. Zu sehen sind die Bikes in Halle B3 am Stand 109.
Boo Bicycles was founded in 2009 by Nick Frey after graduating from Princeton with a degree in Mechanical Engineering. After successfully racing a prototype bamboo-carbon fiber bicycle in the spring of 2008, Nick was contacted by James Wolf, an interesting ex-pat living in Saigon…
James Wolf, a graduate of Rhode Island School of Design in Industrial Design, has over 15 years of experience working with all types of bamboo. His company, James Wolf Designs, has specialized in custom structural bamboo installations as well as high-end furniture, fly rods, boats, and much more.
As a professional cyclist and mechanical engineer, Nick brought his wealth of experience in the high-end bicycle world to the table. As a master craftsman and talented designer, James took Nick's ideas and made them a reality. The two together have created the highest performance, highest quality bamboo bicycles in the world.
The goal of Boo Bicycles has been to create high performance bicycles that are also supple, smooth, and comfortable. These traits had previously been mutually exclusive: you could not have your cake and eat it, too. However, Boo has successfully married two composite materials, one natural, one synthetic, to create the optimum blend of performance and comfort.
Boo Bicycles' race pedigree thus far is quite impressive:
1st – Vuelta Miami 2009
2nd – Utah State Championship Cyclocross – 2009
4th – San Dimas Kross-toberfest UCI C2 – 2010
18th – Cross Vegas UCI C1 – 2010
25th – Cyclocross National Championship Elite Men – 2010
While Boo continues to prove itself at major professional races, it is not engineered to be a one-trick pony. The cycling industry continues to push the limits of performance and technology with their carbon wunderbikes, but these machines are meant to perform under conditions which are a far cry from the reality of 99% of the cycling market. A bicycle should feel stiff, light, supple, and quick…but it should not be ultra-stiff, unforgiving, twitchy, and fragile. Boo Bicycles produces custom bikes that can be raced successfully at the highest levels but are designed to provide a lively, forgiving ride which increases stability and traction on descents and reduces fatigue on centuries and grand fondos.
James and Nick have invested thousands of hours perfecting the design of every Boo model. Their attention to detail and focus on quality is on par with the finest custom bicycles in the world. Absolutely no detail in overlooked in the design of each customer's bicycle. Boo is able to stand behind their products with a lifetime warranty against manufacturing defects and a 100% satisfaction guarantee. Boo has a foundation of over 100 happy customers–this is it's greatest asset. Boo's success is dependent on the satisfaction of its customers, and you can rest assured that any bicycle carrying the BOO BICYCLES brand will be of the utmost quality.
Quelle: Boo Bicycles | http://www.cbe-sports.com/