Wieder einmal ist Syncros, einer der Kultmarken der 90er Jahre, verkauft worden. Nach GT, Schwinn und diesbezüglich Pacific Bicycle, war Syncros zuletzt ein Teil von Ritchey. Nun hat Scott Sports angekündigt die Anteile der 1986 von Peter Hamilton und Pippin Osborne gegründeten Firma zu übernehmen.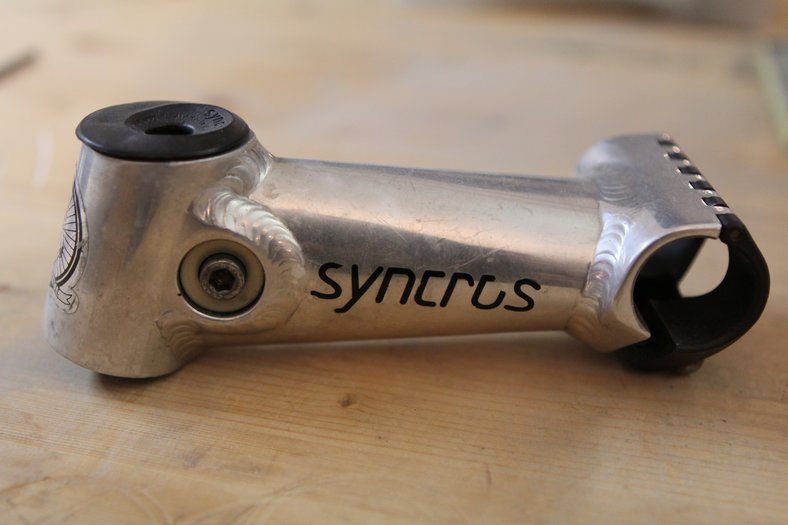 Bild: Syncros Cattlehead aus dem Jahr 1997 in der "hinged"-Ausführung
Ob Syncros nun unter neuer Führung wieder an die alten Zeiten anknüpfen kann, muss sich zeigen. Die neuen Komponenten sollen jedenfalls auf der Eurobike im kommenden Herbst präsentiert werden.
Quelle: Pressemeldung von Syncros/Scott:
GIVISIEZ, Switzerland — January 3rd, 2012— SCOTT Sports today announced it will
shift gears in the aftermarket bike accessories business and take over the Syncros
brand to become a major player in the parts and accessories market. Syncros was
founded in 1986 by Peter Hamilton and Pippin Osborne as a small, high-end components
company on Vancouver's North Shore. After a few changes in ownership, Tom
Ritchey made the final buy in 2003 and under his guidance, Syncros returned to its
roots as a leading manufacturer of high end mountain bike components specialized
in the All Mountain, Freeride, and Downhill categories.
SCOTT will give Syncros the necessary support to design outstanding products and
enlarge the line by expanding into Cross Country and Road categories. A dedicated
design and engineering team has been created and they have already begun
working to develop innovative products for future Syncros product lines. The
products will be built to reflect SCOTT's high standards for technology while also
keeping top-to-bottom integration mind. This type of product integration will cultivate
new levels of innovation, further adding value to its bikes.
"We have always believed that the Syncros name has had an excellent image in
the industry," adds SCOTT Sports Vice President, Pascal Ducrot. "Our priority was
to find a way to increase our oering of parts and accessories while still maintaining
our relationship with Ritchey, our long-term partner. The purchase of Syncros
was the perfect solution and we look forward to oering our dealers a full line of
new parts and accessories with the same high quality standards as our bikes."
Syncros will be distributed through the SCOTT network to dedicated dealers around
the globe. Currently SCOTT oers dealers a full range of bikes, clothing, bike shoes,
and helmets. The addition of Syncros parts and accessories will further strengthen
this package, giving dealers more to oer. SCOTT will present the complete range of
new Syncros products to the public during the 2012 Eurobike show.
ABOUT SCOTT SPORTS
SCOTT SPORTS WAS FOUNDED IN 1958, IN SUN VALLEY, IDAHO. TODAY IT IS A LEADER IN THE DEVELOPMENT,
MANUFACTURING, SALES AND MARKETING OF HIGH END PERFORMANCE PRODUCTS INTENDED FOR BIKING,
WINTER SPORT, MOTORSPORT AND RUNNING. INNOVATION, TECHNOLOGY AND DESIGN ARE THE ESSENCE
OF THE SCOTT PRODUCTS AND THE VISION OF OUR ENGINEERS AND DESIGNERS.