Sechsundzwanzig Zoll war in den letzten Jahrzehnten das Maß aller Dinge im Mountainbike-Sektor. Nachdem uns der Hype um die großen 29er in der letzten Zeit regelrecht erdrückt und sich mit 650B ein weiterer Quasi-Standard abzeichnet, nimmt die Vielfalt an passendem 29er Equipment stetig zu. So auch bei den Franzosen von JPRacing, die unter dem Label DUKE nun ihre erste Carbon-Felge für die großen Laufräder präsentieren. Lucky Jack nennt sich der Rundling, der beim XC-WorldCup vergangenes Wochenende schon Romain Seigle zum Sieg bei den Junioren pilotiert hat.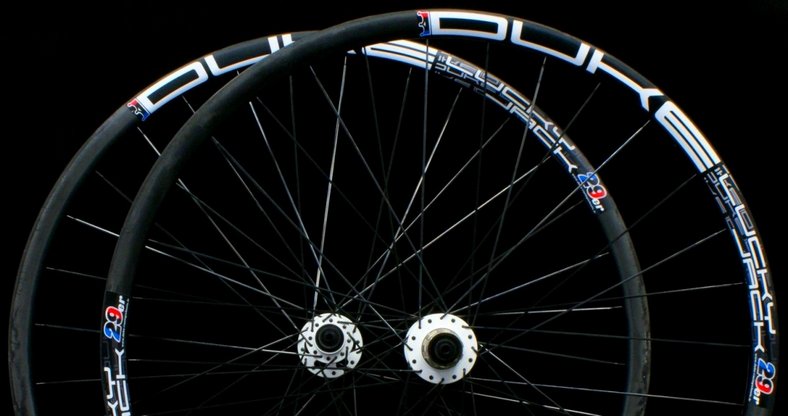 Die technischen Daten:
Weight of 325g (+-5g) in standard version and a weight of 299g maximum for the "299" version (rider<75kg).

Tubeless ready compatible with tubetype tires + sealant or Tubeless Ready tires

Asymetrical rim for a better brace angle (+12%): this will give a higher lateral stiffness (default often criticized for 29er bikes compare to 26″) and will give a better spoke tension balance between both sides (100/86% on a Tune hub) for better durability.

A similar stiffness to "All Mountain" aluminium rims in the standard version

External width of 27mm: which gives better stability to the tire, and more volume to increase comfort, grip and efficiency

Spoke holes with angle to reduce stress locally on the rim and on the spoke. Internal nipples to reduce size holes.

Use of UD and 3K carbon fibers to optimize respectively lateral stiffness and spoke tear strength. Carbon fibers is also well known to reduce vibrations.

Stone impact resistance important with the use of a specific resin.

Section height of 24.5mm for stiffness … and have nice look!

Available in 28 or 32h

Available with decoration in standard version in white or "ghost silver" for discretion. A specific decoration for the "299" version.

Rims available also on complete wheelsets, for example:
o DUKE Lucky Jack / DUKE Mad Max / Sapim CxRay: 1499€ / 1335g
o DUKE Lucky Jack / TUNE King Kong (Duke version) / Sapim CxRay: 1499€ / 1295g
o DUKE Lucky Jack 299 / TUNE Princess Prince (Duke version) / Pillar Mega Lite SS: 1799€ / 1195g

Complete wheels are delivered with tape and tubeless valves.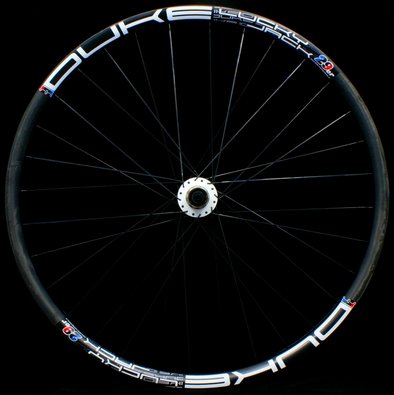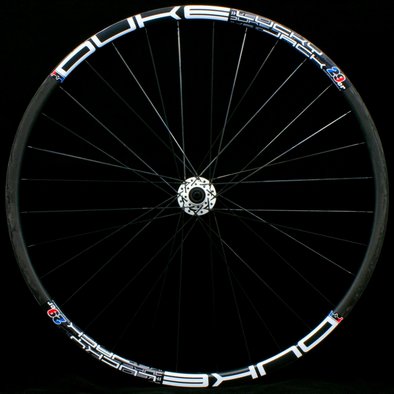 Preislich liegt die einzelne Felge bei 495 Euro, als 299er Version bei 540 Euro.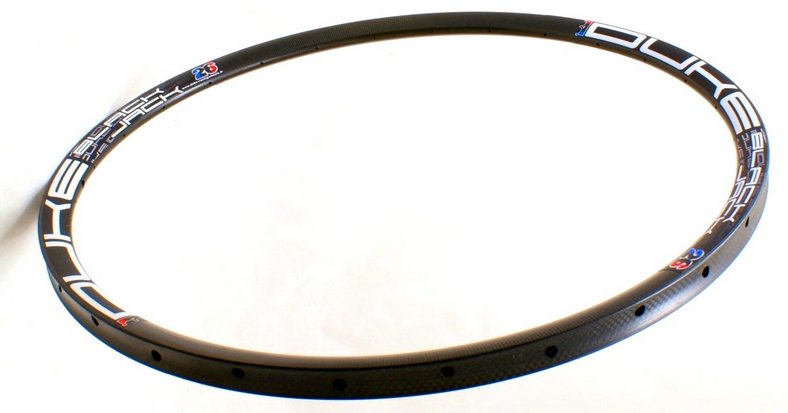 Wer dennoch den 26 Zoll-Räder noch nicht abgeschworen hat, bekommt mit der DUKE Black Jack Carbone eine Felge für Schlauchreifen mit 235 Gramm zu einem Preis von 435 Euro.